Meeting challenges with tenacity and grace
The beginning of a new year is often a time when prophets dust off their skills and try to peer into the future to predict what may lie ahead.
But who could possibly have predicted at the beginning of 2020, that we would be in the place we find ourselves today? COVID-19 has brought uncertainty and change in almost every area of life. The church has not been spared from this upheaval.
Advertisement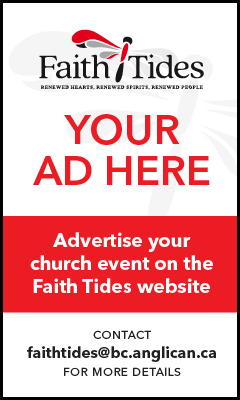 Much that we cherish has been stripped away. We have lost ways of being together that were strong and nurturing. It has been tempting at times to feel overwhelmed.
But I have been deeply moved and profoundly encouraged by the determination I see all around me to adapt to the challenge of these days.
I could never have dreamed that I would find myself leading services in which most of the congregation would be "Zoomed" onto a screen above my head, while a small gathering participated scattered around the pews in the building. Who could have thought that in one service, the sermon would come from a parishioner in Mexico, with music from nine musicians around the city, a reader in the church building, prayers offered from another home, and a children's time projected from a local park? Who could have imagined drive-around trick-or-treating to parish family homes, do-it-yourself Advent wreathes delivered to families and a virtual Christmas pageant with no one in the building?
These are not things I could have made happen. I have depended for these initiatives on the dedication, skill and talent of a host of creative people in our community. We have been learning and growing together, finding new ways to connect and experimenting with how church might be done in these strange times.
So, based on my experience of the past 12 months, there is one prediction I can make with confidence.
I predict that, at all levels of society and no less in the church, we will continue to meet the challenges that lie ahead with creativity, tenacity, grace, flexibility, determination and commitment.
I see abundant evidence that the church is fulfilling Paul's injunction "of stewards that they be found faithful" (I Corinthians 4:2).
In the spirit with which we have met the new realities COVID has forced upon us, I predict we will adapt. We will continue to find new life together. We will carry on bearing witness to the steady stable power of love that is our reason for doing this thing we call "church" whatever it may look like moving forward.