An update on St. Anne and St. Edmund cold-weather shelter
In the February 2020 issue of the Diocesan Post, then-editor Susan Down reported on the cold-weather shelter being run out of the historic St. Anne's Church in Parksville. The effort was led by Christine Muise, priest associate at St. Anne and St. Edmund, Parksville, along with a team of volunteers and support workers. St. Anne and St. Edmund, Parksville, was one of a number of local churches that banded together to form OHEARTS, which stands for Oceanside Homelessness Ecumenical Advocacy Response Team Society, in response to the lack of a cold-weather shelter in the Parksville area. Unfortunately, shortly after the article ran, the shelter was forced to close due to the pandemic. St. Anne is a compact, 125-year-old church without proper plumbing, so it was not possible to follow protocols around physical distancing and hygiene. Christine Muise offers an update on the shelter following the closure and the what led to the shelter being re-opened for winter 2021. ■
When the closure happened, OHEARTS pivoted to find shelter for previous guests. We immediately got a couple of seniors into an operating hotel and, with the help of a worker from the Ministry of Social Development and Poverty Reduction, we were able to access another hotel for five more. Each day through March and April 2020, OHEARTS continued to link guests and other outreach agencies to see what services could be found. By the end of April, OHEARTS had established a 16-bed-capacity "COVID-19 Response Shelter" in an operating hotel.
Advertisement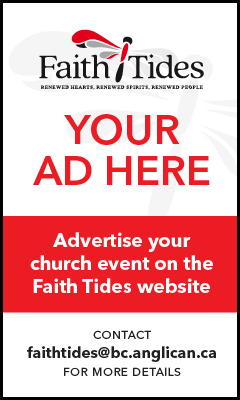 It took us four days. The pandemic has shown us that we can pivot quickly to new realities and new ways of being.
Since last April, OHEARTS has worked to shelter 44 guests. As Nancy Ford's reflection "Finding home"  (p.3) mentions, there need to be many more opportunities for what I call "homefulness." OHEARTS has been successful at getting five people into more permanent housing. It is evident from the guests OHEARTS has worked with, that a variety of housing models is needed, along with various levels of support and other services for success. The biggest need in this area, likely across the country too, is fast access to primary care, addiction care and mental health care — and a multitude of pathways to community, to treatment and to recovery. Integral to this success is the incorporation of peers and people with lived experience. The lack of fast access to care means that people experiencing homelessness, addiction and mental illness are exposed to even greater suffering and trauma.
On January 11, 2021, the Public Health Officer wrote a letter in support of OHEARTS opening St. Edmund Hall. As the temperature and snow were falling, the need for shelter space was felt. On Sunday, February 14, following a conversation with Bishop Anna Greenwood-Lee, OHEARTS was given permission to use St. Edmund hall provided there was funding from BC Housing and insurance coverage. On Monday, February 15, MLA Adam Walker was in communication with BC Housing. On Tuesday, February 16, Perry Perry of OHEARTS was negotiating a budget with BC Housing. On Wednesday, February 17, that budget was approved. On Thursday, February 18, the insurance was in place, and at 8 p.m. that evening, St. Edmund Hall opened its doors to OHEARTS guests. The cots, linens and supplies, and the adherence to public health protocols, with safe distancing and hygiene in place, were prepared by St. Anne and St. Edmund staff.
It took us four days. Four days of concerted effort and HEART. Only four days of collaboration and communication. The pandemic has shown us that we can pivot quickly to new realities and new ways of being. If we could consider housing "essential" because it is, then we could create the networks and linkages to more permanent, long-term options. It is time to pivot. It is time to listen to the science and research that makes housing a priority, along with all the necessary supports and community-building initiatives for continued success. This suffering on the streets and rough living is unnecessary.