Celebrating a milestone anniversary at St. Peter, Comox, and launching a Blessings Boutique
One hundred and thirty years ago, the world was a very different place. But people still needed to gather with their friends, build community, find refreshment for tired spirits and commune with their sense of the transcendent, with God.
So, William Robb, a settler farmer, donated land just north of his 262-acre farm to build such a place, provided construction began within 40 days and the cost was greater than $2,000.
Advertisement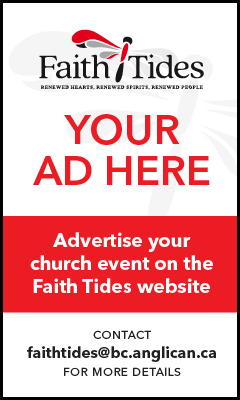 Thus, St. Peter's Anglican Church in Comox was established in 1891. Both conditions were met, with the final cost being $2,228. And on the weekend of Sept. 11 and 12, the 130th anniversary of that event will take place, accompanied by a raft of interesting activities.
St. Peter, Comox, opens a Blessings Boutique
Generosity has been abundant during the pandemic, but its focus has mostly been on providing for people's basic needs. Now that restrictions are lifting, generosity can again be expressed through the creative, the spontaneous and perhaps the whimsical.
It is this kind of generosity that St. Peter, Comox, wants to make available through a new Blessings Boutique. God told the prophet Isaiah to tell the people of Israel, "Come, buy, without money, without cost." As part of our 130th anniversary celebrations, we will be launching a new kind of store, where those who have surplus make it available to others without cost.
People have been simplifying their lives during the pandemic by eliminating what is unnecessary. The challenge is what to do with the things we want to get rid of. The Blessings Boutique will be open Saturday, Sept. 11 (10:30-4) and Sunday, Sept. 12 (11-1:30) at 218 Church Street, Comox.
Every item at the Blessings Boutique is free, but any cash donations made by those who choose to do so will be used to support the running costs of the initiative.
After the anniversary weekend, arrangements are being made to have the facility open on a weekly basis.
Those wishing to donate clothing, small household items, fabrics, jewelry, etc., may bring them to the church office (Tuesday-Thursday 9-1) or call the office at 250-941-5388 or email [email protected] to have them picked up. All items need to be clean and in good condition.