Our diocesan vision calls us to live into the Anglican Church of Canada's fourth "Mark of Mission," to "transform unjust structures of society, to challenge violence of every kind and pursue peace and reconciliation." In our efforts to be what Roberta C. Bondi describes as "bearers of reconciliation," we have been seeking ways to build relationships of mutual trust and respect with those who have been harmed by the church, and to release ourselves from those prejudices that keep us from truly reflecting the image of Christ to our neighbours.
As noted in the June issue of the Post, in 2021-22 the diocese will engage in acknowledging racism, in ourselves and in our faith communities, and in learning together how we can remove the barriers that prevent our neighbours from living the full life God has intended for them. In the summer of 2021, for example, diocesan council, active clergy and synod staff took part in a cultural awareness assessment to better understand where they, as individuals, can better engage in this work. The collective results of this assessment can be found at www.bc.anglican.ca/diocesan-ministries/reconciliation-beyond, and congregations across the diocese will be invited to participate in similar exercises in the coming months.
So, it was timely that Bishop Anna accepted an invitation in early July to visit Victoria's historic Emanu-El synagogue (shul) and took a walking tour through Victoria's Jewish history by way of downtown landmarks and the community's cemetery. Our tour guides were the Jewish Cemetery committee chairperson, Richard Kool, and the shul's "Discover the Past" tour guide and community historian, Amber Woods.
Advertisement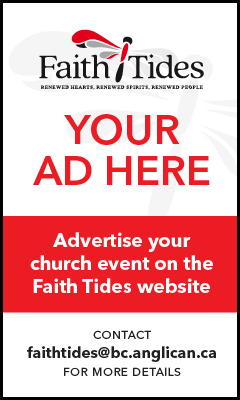 As important as the tour itself were the spirit of friendship and desire to support and uphold each other's communities with which the invitation was both extended and received and that made the day so special. The tour invitation was extended after Bishop Anna, along with the shul's rabbi, Harry Brechner, and Masjid al-Iman's imam, Ismail Mohamed, participated in a spontaneous peace vigil at Victoria's Centennial Square on May 23 — a response to the escalating conflict taking place in Israel and Palestine at the time.
In a year in which hate crimes against people of colour and people of faith have dominated the headlines and impacted many of our personal lives, the offer to share a little-known part of B.C.'s history — a history marked by racism and resilience — was a poignant moment of hope and graciousness between the two Abrahamic relations.
The diocese and the conservative shul, through their bishops and rabbis, have had a long and blessed relationship. In fact, Anglicans in this region were among the original financial contributors to the synagogue's construction over 150 years ago. In 1863 we celebrated, with the Jewish community, the establishment of this beautiful community hub, which is now the longest continually operating synagogue in Canada and a national historic site. Today, we are seeking new ways to support their continued prosperity on Vancouver Island and to learn more about our own tradition in the process. After all, it is in knowing and loving our neighbour that true reconciliation begins.
I encourage you to reach out to the Jewish community in your area to learn more. B.C. wouldn't be what it is today without them. That history, much like the story of the Hebrew people of the Old Testament, is our history too, and we are all richer for knowing it.