I was born in Saskatoon, but I spent most of my youth in the southeastern area of Ontario. We lived predominantly in small towns and in rural areas when I was growing up. Early religious influences include a parish priest who was open to the questions and searching that I was doing as a teenager. He encouraged me to ask questions about my faith.
I began to discern a calling to ordained ministry when I was only 15 years old. At the time, women were just beginning to be ordained in the Anglican Church of Canada and there were no ordained women in my home diocese. It never occurred to me that seeking ordination might be something that was not open to me. While my diocesan bishop at the time indicated he could not endorse me on as a postulant in the diocese, by the time I had finished my BA from Queen's University in Kingston, ON and was planning to apply for an MDiv program, a new bishop was elected, and he had already ordained women in another diocese. I became a postulant and was subsequently ordained both deacon and priest by him. I earned an MDiv from Trinity College in the University of Toronto.
After many years of moving, first as a military spouse and then as a chaplain, I am enjoying settling into our home in Victoria and establishing myself as Honorary Assistant and parishioner at Christ Church Cathedral. I have been married to a wonderful man, Canon Doug Friesen, for the past 32 years. We are planning to travel extensively once we are able to do such things again. We have two children in their 20s who are studying at the University of Toronto and continue to bring us a lot of joy. I look forward to seeing where God might call me at this stage of my life.
Advertisement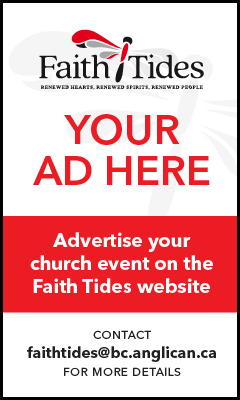 What are your posting highlights?
I worked as interim priest in parishes in Medicine Hat and Cold Lake, Alberta, and here in View Royal. From 2009-19 I was a Canadian Armed Forces chaplain. I worked predominantly with the Royal Canadian Navy here in Esquimalt. I sailed with HMCS Protecteur, Ottawa, and Calgary on exercises and missions. Following the engine room fire on HMCS Protecteur in 2014, she was towed back into Pearl Harbor, and I flew to Honolulu to meet the ship and support the embarked chaplain and the crew. It was an intense and challenging time.
What do you see as the greatest challenge in the Anglican Church?
I think the biggest challenge is to find ways to make our mission relevant to the needs of the world beyond our church doors. The need is great. I believe the Body of Christ has an important role to play in bringing hope and healing to our world. Serving as a military chaplain, I worked in a community of people of many religious backgrounds (including some with "no religious expression" and others who identified as "spiritual but not religious"). I learned that people who might not attend church were open to talking to me about what was happening in their lives and seeking support. 
I've been connected with the Diocese of BC for almost 30 years and throughout that time I have heard of the creative ministries that were happening in the St. George parish. I am delighted to have an opportunity to work with this animated community and journey with them during this period of transition.