This past winter, some parishes in the diocese opened warming centres for those in need. 
At St John the Divine, Victoria, the church's lower hall was used as the City of Victoria's Emergency Overnight Warming Centre during extreme weather. The centre was operated and staffed by the municipal emergency planning group (within the fire safety division) from 8 p.m. to 8 a.m. each day until the end of March. St John's also provided space to Our Place (an inner-city mission nearby) to store extra clothing and blankets during the winter. 
At St Paul, Nanaimo, a warming centre was opened at its Centre for Ministry and Community Service from mid-December to the end of March. It was funded by a grant from the City of Nanaimo, with St Paul's receiving payment for the use of its hall.  
The warming centre was operated by the 7-10 Club Society, a non-profit agency in Nanaimo with a long history of working with the vulnerable and marginalized in the community. As part of its outreach, three objectives of St Paul's parish ministry were put into practice: collaboration, creating community and education. As Joy Adams Bauer, the rector's warden explains, "The daytime warming centre fitted well with these goals. We see it as one way we are trying to be the feet and hands of Jesus in our community. We are playing our part in trying to educate the public to see these men and women as their neighbours and friends, and to give and receive love and respect from those with whom we interact." 
The centre was met with positive reaction by local residents, many of whom generously donated gently used clothing, toiletries, snacks and recreational items. According to Joy, "Clients of the centre were thankful for a chance to have a cup of coffee, some snacks and a chat with the staff and other folks who either live on the street, use one of the overnight shelters, or are simply a member of the working poor struggling to get by." One guest, Joy happily recounts, was able to connect with appropriate resources and get the help he needed. Furthermore, he now volunteers at the warming centre! "There are at least a hundred homeless people in downtown Nanaimo," Joy adds, "and we are grateful that we are playing a small part in trying to make their lives a little easier during the day."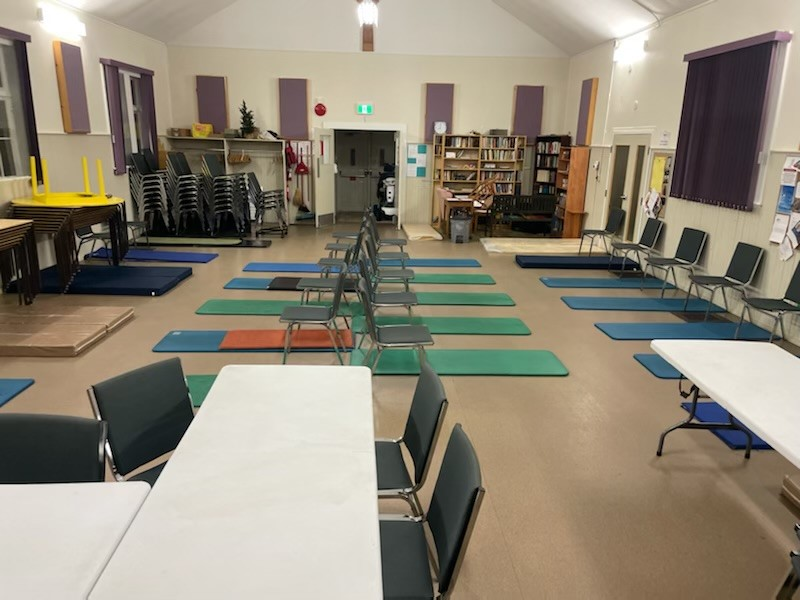 Warming shelter at St John the Divine, Courtenay. Image courtesy of Marion Edmondson.

While St John's and St Paul's have closed operations with the arrival of spring, St John the Divine, Courtenay will continue to run a warming shelter in its church from 8 p.m. to 8 a.m. until mid-April. The shelter was set up in partnership with Nicole Morrison of NM Consulting and Outreach Service, and was made possible by an agreement with BC Housing and a grant from the Comox Valley Community Foundation.  
At St John's, volunteers and staff prepare, serve and share meals with the shelter guests as part of the church's ministry. Clients rest and sleep in its hall from 8 p.m. to 8 a.m., and they are given a warm supper when they arrive and a breakfast before they leave. The shelter is part of St John's outreach programme which includes a free store called the Blessings Boutique (open on Mondays from 10 a.m. to 2 p.m.) and a street-side free food pantry called the Blessing Box. Donations of food (non-perishable, canned or dry goods), used clothing and unopened toiletries can be dropped off at the church located at 579 5th Street, Courtenay, Monday through Friday from 9 a.m. to noon. Items will be directed to the shelter or to the Blessing Box as appropriate. The public's help is welcome and appreciated, Marion Edmondson, deacon at St John's says, as there are some 300 homeless people in the Comox Valley. Between St John's and two other shelters, the church is only able to provide beds for 100 individuals.