For the parish whose minister has retired or moved away, finding a replacement isn't as easy as posting a "help wanted" ad on Kijiji. While the search goes on for the right person, a parish will often rely on an interim-priest-in-charge for up to a year. How has the pandemic affected the church's flow of human resources?
Comings and goings in the pulpit are a feature of diocesan life everywhere, said Barry Foster, executive archdeacon for the Diocese of British Columbia. But he also believes we're experiencing a perfect storm of factors right now. "First off, COVID-19 is inhibiting movement. Financial capacity constrains a parish's ability to advertise for full-time ministers," he said, pointing out that only a few people are willing to relocate for part-time work.
Two other things are affecting the flow of new people into the diocese, he said. The cost of living and availability of housing on the Island can be challenging. "There's a general perception that it's an expensive part of the country," he said. The presence of a new bishop may improve things as she starts to attract people from her own network, he said.
Advertisement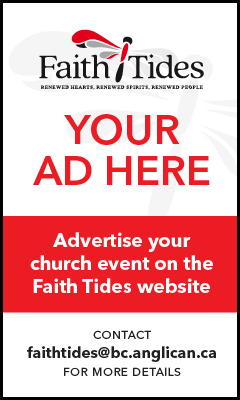 Half of the 46 worship communities in the diocese have one full-time minister, or in larger Victoria parishes such as St. John the Divine or Christ Church Cathedral, additional  clergy on staff. The rest are managed in other creative ways. Here's the breakdown:
1 – lay leader in shared ministry (Port McNeill)
1 – monastic community (Emmaus).
2 – shared with United church ministers (Gabriola and Port Hardy)
2 – two churches sharing one minister (Central Saanich and Two Saints)
5 – priests and curates (more than one full-time equivalent position)
7 – interim clergy
11 – part-time priests
18 – full-time priests
In other regions of the province, officials are seeing shifts in the types of ministries. Douglas Fenton, executive archdeacon for the Diocese of New Westminster, agreed there is a move to more shared ministry and part-time clergy over the past several years. "I would not characterize this negatively but rather in a way in which parishes can join together and cooperate in proclaiming the gospel," he said. "In many ways it expands the reach of any one parish while sharing the cost of ordained leadership."  The pandemic has provided the impetus for some collaboration between parishes, he added.
In Ontario, dioceses are grappling with the same issues.
Mary Conliffe, Diocese of Toronto, said there are usually 15 – 20 vacancies, a number than remains steady. 
"One trend I guess we could lay at the feet of COVID-19 has been a reduction in the number of transitions generally," she said. "This is mostly out of a very commendable desire on the part of the cleric not to "abandon ship" in a crisis. In some cases we have priests who are delaying retirement in order to wait out the pandemic and see the congregation through this difficult time with stability in leadership." 
Wayne Varley, archdeacon for ministry and programs for the Diocese of Ontario, said the number of interim and part-time ministries remains relatively constant but they last longer. He suggests the reasons could be affordability, development of shared ministries and declining church membership in many places.
"We try to be nimble in response to what is happening throughout the diocese," said Varley, who fills not only the diocesan role but also serves as interim priest-in-charge of the Parish of Lakes and Locks. "The good news is that we are not being adversely impacted too much by the COVID-19 pandemic, in part due to the federal wage subsidy, and are discovering creative ways to connect for worship, pastoral ministry and administration."
Back in our diocese, Foster said vacancies are an opportunity for "fruitful conversations." "I think we are learning that to have a vital ministry without a full-time person we must learn to adapt and realize that clergy is not the only factor." Historically the congregation looked after things like pastoral care, he said.
A minister's job description could look quite different in the future, he said. "Ministers will likely be more bi-vocational, combining work in another career with ministerial duties. They need to have a dual career or have a partner with a job."