On April 22, St Peter, Comox, transformed its gardens into a celebration for Earth Day. For any who have been discouraged by hearing so much about the climate crisis, exhibitors from across the Comox Valley set up booths and displays to demonstrate numerous ways individuals can make a practical difference.  Comox Valley Nature, Save Our Trees, Project Watershed, Breathe Clean Air, Merville Water Guardians and Rails to Trails, among others, offered opportunities for engagement that catered to almost every taste. During the afternoon, the church was open for meditation and a slideshow illustrating the wonders of creation. 
The St Peter green team, a small but vigorous band of volunteers led by climate activist Jay Van Oostdam, organized the day. They enabled dozens of their fellow citizens to find ways to participate in this "partnership for the planet." Each of the exhibitors addressed the crowd, laying out specifically the contributions their group makes to restoring creation. 
Sulin Milne, incumbent at St Peter, and the green team led the crowd through a half-hour "Celebration of Creation," with readings from scripture, poetry, and great thinkers.  
Advertisement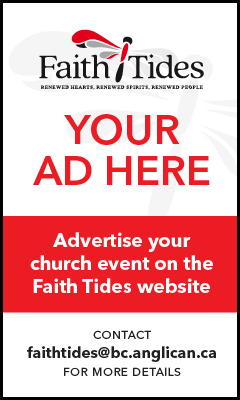 St Peter raises funds for one organization a month that is making the gospel reality in a practical way. In April, that organization was A Rocha, an international Christian group actively restoring creation on the ground. Its outreach literature was given pride of place during the day's celebrations.