Those of us in the Gulf Islands face fewer challenges with Covid than many city dwellers.  Social distancing is more easily achieved. At the same time, our median age is significantly higher than the provincial mean, so many of us are part of a higher-risk group.  Life in many respects has felt more safe since summer ended and the very large number of visitors, many from more risky environments,  have left us to ourselves.  We are fortunate on Salt Spring to have easy access to medical services with our wonderful Lady Minto Hospital.  Our friends on other islands face greater challenges.
Since the middle of March the Anglican Parish of Salt Spring Island has continued to worship on-line.  We are grateful to Gyllian, our priest; David, our director of music; Dale our parish administrator; choir members; intercessors; and Ron Dyck, a choir member and Zoom and You Tube savant.  Using Zoom Gyllian records herself welcoming, saying the collects, reading the Gospel, preaching a homily,  and blessing and dismissing us.  She forwards the multiple files to Ron.  David records himself playing preludes and postludes in an empty church.  With one or two (if they are in the same bubble) choir members at time David records each singing his or her parts to hymns and anthems.  David then merges all the files into one – et voila, we have a socially distanced choir that sounds very fine.  All the music files then go to Ron.  A different intercessor each week records the prayers of the people from home and the file goes to Ron.  Ron then brings all the files together, renders the video and transfers it to You Tube.  Dale then goes through the You Tube file to correct any errors produced by You Tube's automatic closed captioning.  Dale then prepares a web bulletin for each Sunday.  After a great many hours of work on the part of all the above, we have a beautifully produced worship service of about 35 minutes with fabulous photographs of our beloved island as back drop to hymns and anthems, which goes live each week on the parish website.  We are reaching people well beyond our regular attendees.
When live socially distanced services were permitted, the e-Service continued because we were only able to seat somewhere between 15 and 25 depending on the bubble mix of attendees as opposed to the 70 to 80 we would have on a "normal" Sunday.
Advertisement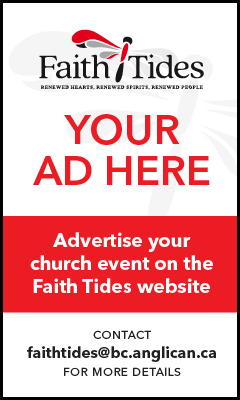 Parishioners are staying in touch by telephone and email.  We have started hosting Zoom coffee/tea sessions once a month on Sunday morning to great success. The wardens and the incumbent and Parish Council have been meeting on Zoom regularly as has our Mission and Outreach committee.  We had several successful study groups meet on Zoom, and more are scheduled for Lent.
COVID certainly has presented the parish with financial challenges.  We are deeply grateful to Gail Gauthier in the synod office and the finance staff for navigating the Canada Emergency Response Benefit Program application process for us. We know how much work that has been for them.  The assistance has been very important. Financial challenges remain, however, which we will be addressing over the coming months.  Our goal is to preserve capacity to leap back into action as soon as circumstances permit and to pursue more and more e-access offerings in the interim.  We have no illusions that we are going back to normal.  Many have spoken about COVID as an accelerator of change or an accelerator of trends that were becoming apparent but, hitherto, moving slowly.  We know that we will be changed by this experience and our plans to address financial and other challenges must reflect these changes, limitations, and new opportunities.
All in all, we give thanks for each other and thanks to our creator for keeping us together in these difficult times.  We are tremendously aware of our good fortune as others have been challenged so much more than we.