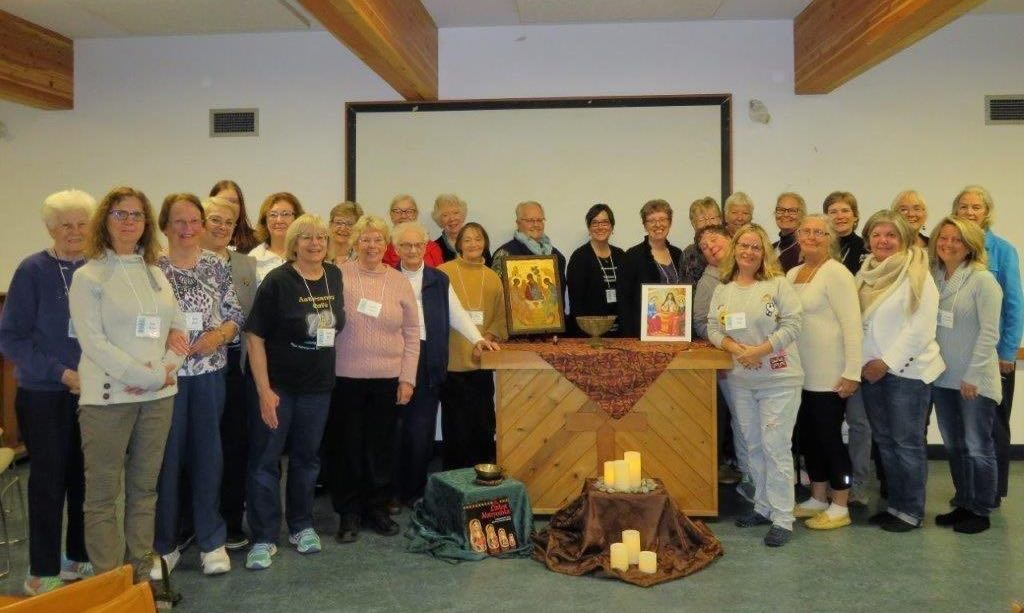 The Women's Retreat has been running since 2004, when it was established by Pam Orman, a retired priest of the diocese. It was originally coordinated by Diane Marks and held at Camp Columbia. 
In its early years, the retreat faced a number of setbacks and obstacles, including the closure of Camp Columbia, and Diane's announcement, in 2006, that she would be stepping down. Lucikly, the Women's Retreat had an ardent supporter who was determined to see the retreats continue.  
"When Diane announced that she was stepping down and that the retreats would stop if no one took her place, I thought, no way," says Brenda Daene, Women's Retreat planning team coordinator. "I could see how much the women needed this. They needed a break away from their home life. We don't ask why, but we know many of these women need a break. Their strength is incredible."  
The retreat found a new home at the United church's Camp Pringle, where it has been held every spring and fall since 2009. The retreat takes place twice per year to give those who can't attend in one season the chance to attend in another. A strong sense of community has formed around the retreat and Brenda stays in touch with all the attendees throughout the year, even sending cards at Easter and Christmas.  
The last in-person retreat took place in fall 2019, and though there was an online retreat in spring 2021, Brenda is looking forward to gathering at Camp Pringle again in June. In the past, the retreat took place over three days, but this first physical gathering will be just one day, which has made the administration side of the planning easier. "We don't have to worry about bed placement!" says Brenda.  
Four years ago, Brenda was made a lay canon for her work in organizing the retreats, which, she's keen to emphasize, have always been strongly supported by the diocese. Brenda recounts how, when the Anglican Camp Columbia closed, the retreat planning team went to the then-diocesan bishop Bishop Cowan to ask for his blessing to hold the retreats at Camp Pringle and for the retreats to be independent from the church, since they would no longer be held on Anglican soil. Instead, he assured them that the diocese would continue to support them in whatever way they needed.  
To this day, the diocese provides bursaries for women who would like to attend the retreat but face financial barriers to doing so. Brenda also urges parishes to support women who might want to attend the retreat with financial aid.  
Despite being honoured by the lay canon title, Brenda is clear that organizing the retreats is a collaborative effort. In fact, it was a condition of her taking on a role in coordinating the retreat that she would only do it if she had a team to work with. Brenda works closely with lay canons Barbara Coleman and Diane Hutchison. Nancy Ford, retired deacon, is the retreat chaplain. There are a further six members on the planning team and Brenda says they all bring their own talents.  
"It's really the team that pulls it off," she says. "We respect each other's ideas, and if we don't agree on something then we talk about it."  
Brenda also has her eye to the future of the retreats. The retreat planning team and attendees range in age from their late 60s to early 80s. Brenda has been trying to bring in younger women to ensure the retreats continue for many years to come. "We have to be realistic," says Brenda. "We're not going to be around forever!" But for now, she's looking forward to June 18 and hoping they will again be able to gather for three days in October, when the fall retreat will be facilitated by Bishop Anna Greenwood-Lee.  
For more information about the spring Women's Retreat, visit the diocesan website.  
The other members of the planning team include Pip Woodcock, Carol Ann Zenger, Pat Fraser, Noelle Davis, Lindsay Pedlow and Christine Knowles. Sheila Flynn, retreat facilitator; Diane Bell, who was music director for the retreats; and planning team member Cathy Beise, have sadly passed away but are remembered fondly for their contributions to the Women's Retreat.