Holly's Hamper has stood on Comox Avenue for years, inviting the local community to "take what you need and leave what you can." No one knows who installed the community food shelf, but local church St Peter sees it as an important way to help those who might find it awkward to request food through its Bridging the Gap program, which has distributed parcels of food from the church office to those in need since the start of the pandemic. 
Age and weather were beginning to take a toll on Holly's Hamper, leaving it in desperate need of repair. So, Peter Sidey, who volunteers at St Peter, decided to build a new food shelf using wood from an old pallet donated by Slegg Building Materials. On March 19, the new hamper was installed and dedicated by Sulin Milne, incumbent at St Peter, along with members of the local community.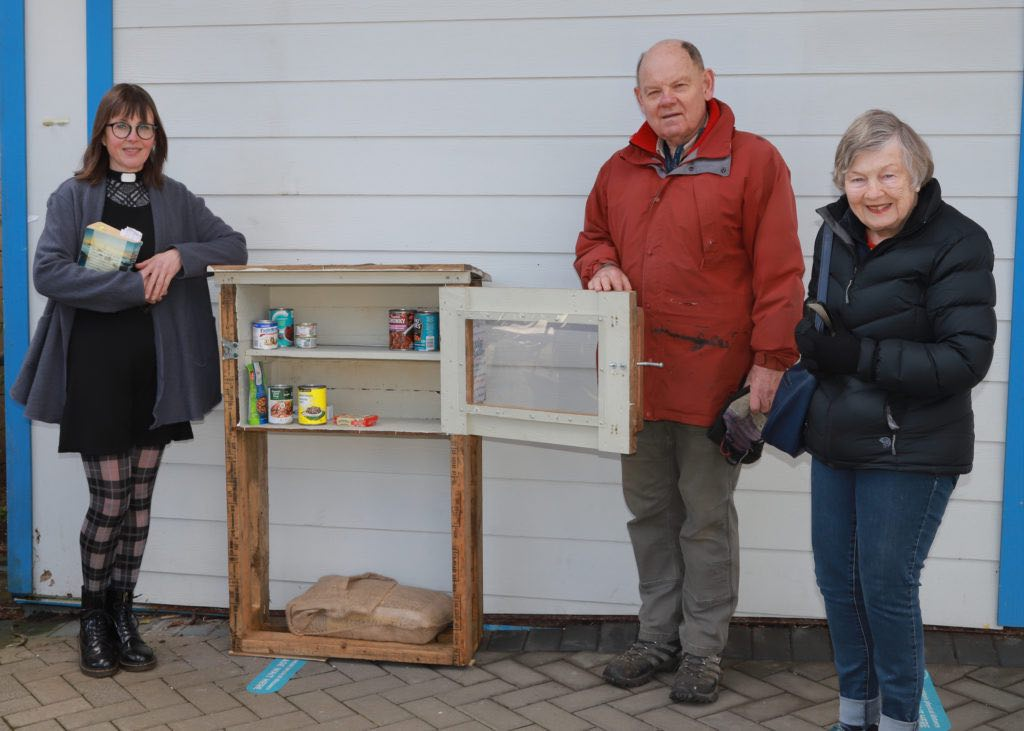 At the ceremony of blessing, Sulin reflected on Deuteronomy 15:4 ("there need be no poor among you") and 15:11 ("there will always be poor people in the land"). While the two verses might seem contradictory, Sulin noted that there is a proviso attached to "there need be no poor among you." There need be no poor if the Israelites fully obey God's commands to be open-handed, to cancel debts and to share God's provision.  
"God knew that the people would not be fully obedient in these things," says Sulin. "He was right, so the poor remain among us even to this day. Sponsoring this community food shelf is one way St Peter's church can follow God's command to feed the hungry and reach out to the poor among us." 
Staff and volunteers at the St Peter food bank will continue to keep a watchful eye on the community food shelf and top up donations as needed from time to time, as well as calling on the local community to help keep it stocked. After all, it has always been a community venture — a way for everyone to help those who are having a hard time making ends meet.  
And, while the food shelf will no longer be called Holly's Hamper, the structure of the original food shelf is awaiting renovation to be used as a free Christian library at the church.