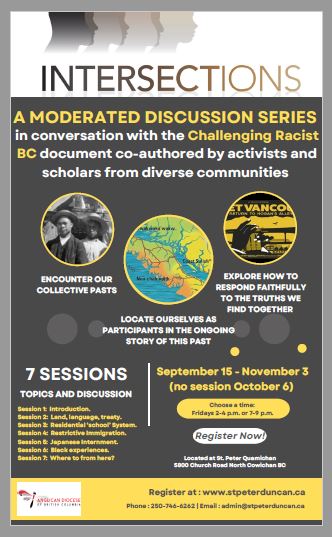 Please click here to view or to download this announcement.
This fall, St Peter, Quamichan will be offering Intersections: A Dialogue Series to all interested individuals. This series provides the opportunity for participants to meet for a few hours each week to explore ways in which we have all been affected by systemic racism, and how racist attitudes and ideas have embedded themselves in our society and in ourselves. This is not always a comfortable process, so there will be trained moderators who will lead the group through specific topics each week.
The idea for holding the course at St Peter's came from Liz Williams, a warden of the church, who participated in the course when it was offered on-line. Her experience in the course was "life changing." She explains: "My own thoughts and feelings, as the granddaughter of people who colonized BC from the United Kingdom, were echoed by many of the other participants. How could I have been born and educated in BC and be so unaware of my family's part in the history of colonization of this part of the world?" Liz adds that, as a result of her participation in this course, she has "gained a new perspective and understanding of the hardships endured by many minorities in this province."
For the parish of St Peter's, this is the next step in their journey of reconciliation as a community and beyond. Having recently made a connection with elders from the Cowichan Tribes who live adjacent to the church, this course is seen as another way to keep moving in the direction of connection, understanding and justice.
The course runs for seven weeks. If you would like to participate, sessions will take place on Fridays beginning Sept. 15, 2023, and will be held at 2 p.m. and again at 7 p.m. to ensure that everyone who wishes to attend will be able to do so.
To register, please email St Peter's at [email protected].