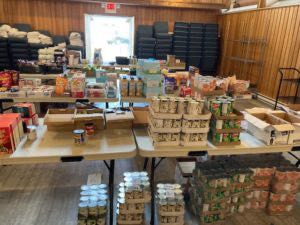 When the COVID-19 pandemic hit, St John Gualbert, Port McNeill (also known as the A-Frame Church) had already started discussions with a local supermarket about putting its unused food to use. In response to the increased need for food in the local community due to the pandemic, the church decided to start distributing food in its community centre and sent out word on its Facebook page. On the first day, the church reached 30 people. The next time, it reached 60 people — this figure includes, for example, a family of four, even if only one family member came to the church.  
The church's food distribution program evolved from there, opening for food distribution every two weeks. Then Loaves & Fishes, a community food bank in Nanaimo, reached out to partner with St John Gualbert. Loaves & Fishes has been able to access vast amounts of high-quality food from grocery stores and needed to find places to send the food. In 2019, the food bank started sending food to St Columba, Port Hardy, and, since 2020, on alternating weeks it sends food to St John Gualbert.   
The church then expanded its relationship with other food sources, including local supermarkets such as Island Foods, and even community members growing vegetables in their gardens. Some community members donated items such as fridges and freezers. The church started to open for food distribution three times per week. To keep the program going, 26 willing and dedicated volunteers stepped in to help. The church was also able to access funding for youth summer job placements supporting the food distribution program.  
The church's food distribution program is now available seven days a week. It's open on Monday, Wednesday and Friday, with hot soup available on Wednesday and breakfast wraps on Friday. The church also runs a bookshop, which provides coffee and cookies, and on Tuesdays and Thursdays anyone who needs food can ring to be let in. As well as fresh food, the church also has a stock of frozen meals that people can access in emergencies, and there are IGA cards available for families with young children. Soap for Hope, a Victoria-based non-profit, has also delivered toiletries and personal hygiene products.  
Deborah Murray, volunteer director of the food program at St John Gualbert, says that the church never felt called to start a food bank.  
"It's not a bank, there's no intention of holding on to it," she says. "There's no need to prove who you are or if you have a need. Anybody who comes is welcome. We have lots of working poor, those who are on assistance, those who are off assistance, those who are between jobs. There's no shortage of food, the problem is the waste of food. Ninety per cent of the time we have something to give."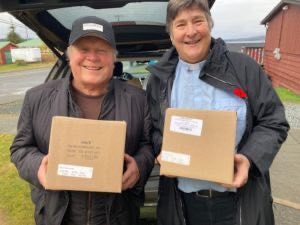 Deborah also mentions that the food is laid out on shelves, much like a supermarket, though no one has to pay. As well as food, the program has started to provide other services. Every second Wednesday, a social or crisis prevention worker is on hand to meet with people, and there are also plans to start a literacy program. 
Peter Sinclair, executive director of Loaves & Fishes, echoes Deborah. He agrees that the term "food bank" is problematic and thinks of the work that Loaves & Fishes does as being more like a "food pipe." But he acknowledges that the work is necessary.  
"We wish we didn't have this problem but there is a need and there is enough food," he says. "We have a responsibility to care for the vulnerable. We need to do something, we can do something, so we're going to do something."