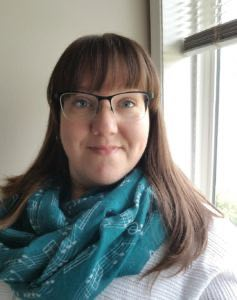 Where were you born and where did you grow up? 
I grew up in Ladysmith and I spent much of my childhood exploring forest floors and ocean shores and could often be found watching the beauty of the night sky. These early moments in creation were my first introductions to the God that is bigger and more wonderous l than I could imagine, well before I began going to church.  
While I did move to Ontario for a few years after getting married, it didn't take long for my husband and I to move back west. Currently, we live in Nanaimo, where we enjoy tending to our garden and working on projects around our home. I can often be found behind the shutter of my camera as we continue to explore the beauty of island living.  
What studies have you done and what route did you take for your studies? 
In the summer of 2019, I began my Master of Divinity as a distance student at the Atlantic School of Theology in Halifax. This program allowed me to integrate my learning with practical ministry experience and allowed me to stay connected to the life and work of this diocese while I continued my studies. This coming year I will be working on my thesis project and, God willing, will graduate in spring of 2023. 
Can you tell us a bit about your career within the Anglican church so far? 
When I was about 16, I found my way to St John, Ladysmith. I was quickly invited to be a youth delegate to Synod and served on Diocesan Council that same year. Over the years I have led Sunday school, served as a youth worker and written Vacation Bible School (VBS) programs for the diocese. I have attended more synods and conferences than I would care to admit and even served as a warden for three years. I became active in the Anglican Cursillo community in 2013 and have served on the music ministry team at Cursillo weekends since that time. I have also been on various diocesan committees over the years, most recently within the Intersections dialogue series.  
Did you pursue another career previously? 
My previous work was in employment services, both as a workshop developer/facilitator and as an employment counselor. Before starting seminary, I also spent a few years working for the provincial government as a front line worker for the Ministry of Social Development and Poverty Reduction with people on disability and income assistance.  
What has been the highlight of your career so far?  
One moment that always sticks out for me happened in August 2007 when my husband and I were hired to be the diocesan VBS leaders and ran our program in 10 churches across the diocese. Most weeks we had between four to 15 children each day. However, that all changed when we arrived at St Columba, Port Hardy. We were set up and ready for registration and were expecting maybe 10 participants. Within half an hour we had over 35 children present and more trickled in as the week progressed. While it wasn't as we had planned and took some creative and quick thinking, it was such a joyful experience, filled with laughter, song, gratitude and community — it still stands out to me today as a wonderful example of being the Church in the community.  
What do you see as the greatest challenge in the Anglican church? 
Through our baptismal covenant, we are called to live out the gospel and to find ways to make the love of an invisible God visible in the world. So, for me, the greatest challenge is seeking ways to make the patterns and rhythms of the traditions of our church vibrant, alive and relevant in today's world, especially as we continue to reimagine who we are called to be as people of faith in a post-pandemic world.  
What would your ideal posting look like? 
For me an ideal posting would be within a community that is not afraid to explore, experiment and try new things as we discern where the spirit is calling us and rediscover who we are as people of faith.  
What was the most unusual sermon you have ever heard? 
One sermon that stands out for me was shared by a musician. He had the song Under Pressure by Queen playing in the background while he spoke. He ended the sermon by playing Amazing Grace on his violin above the recording to demonstrate the grace of God that runs through our lives amidst the pressures of life. It was moving and beautiful and introduced me to more creative approaches to preaching the word and sharing the good news with the community.