On June 17, 2023, St Andrew, Sandwick, the "mother church" of North Vancouver Island, celebrated its 150th anniversary. Beginning as a mission chapel in about 1864, it was rebuilt as St Andrew's Anglican Church, Sandwick, in 1873 with Reverend Jules Xavier Willemar as its minister, who advocated for both Indigenous peoples and European settlers.
Prior to the celebration, the Comox Valley Record (June 4, 2023) published an invitation to the event to the wider community. A heartfelt acknowledgement was made to First Nations people who lived in this "land of plenty" for millennia before settlers arrived, and on whose unceded land we live. Many interesting details are recorded in the piece which outlines some of the 150 years of history, and gives information about many settlers who now have place names around the City of Courtenay.
The celebrations took place on a beautiful day from 10 a.m. through the afternoon. The event was well attended by both parishioners and community members. One attendee was 96-year-old Val, who, as a boy, used to light the wood burning stove in the church early each morning. One can still see where the stove was on the back wood-paneled wall.
Festivities began with 12 Pipers from the Comox Valley Pipe Band playing several bracing pieces on the front lawn for the occasion.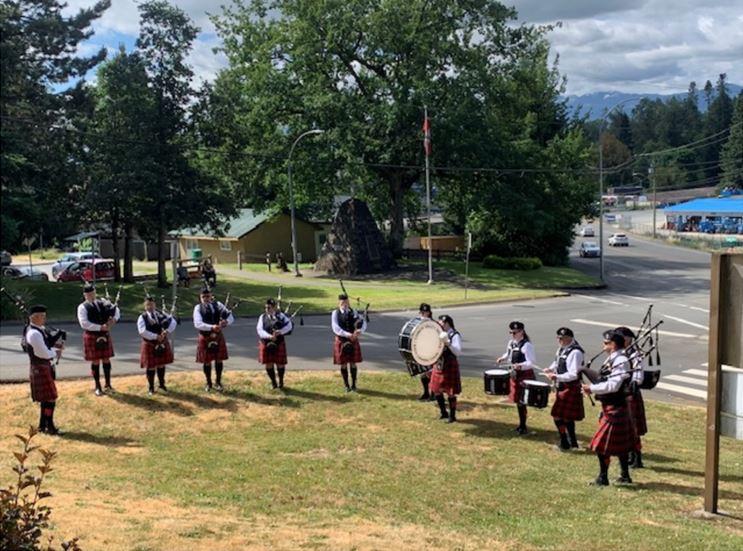 Afterwards, Bishop Anna Greenwood-Lee led a Celtic-based eucharist and graciously enjoyed the festivities with us.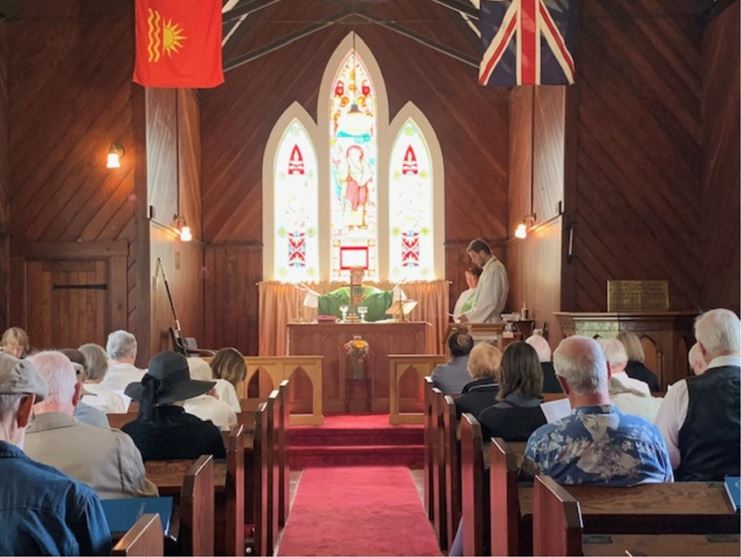 As well, two historical and botanically significant cemetery tours were offered, guided by a parishioner who dressed the part in a late 19th century costume. In the early afternoon, we enjoyed a barbecue picnic on the lawn put on by the Men's Group. This picture below was taken before people arrived for their meal… waiting and ready!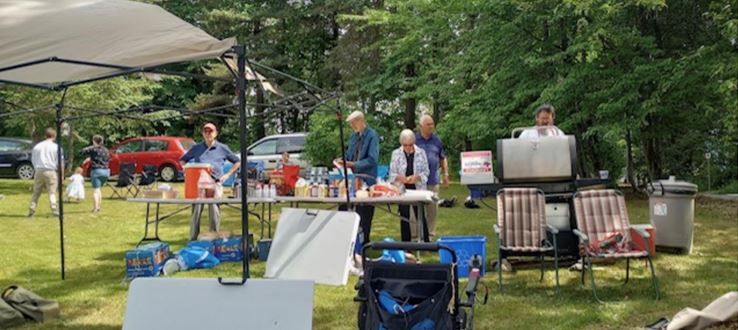 The picnic was followed by two speakers, with roots in the Valley, who gave informative and entertaining talks about the history of the Valley which they were familiar with.
Lastly, the church choir, under the guidance of our choir leader, and with a soprano from the community, a clarinetist, pianist and cellist, gave a concert which was lovely and well received. It was a special ending to the 150th celebration of St Andrew's, Sandwick.
All was a success, thanks be to God!