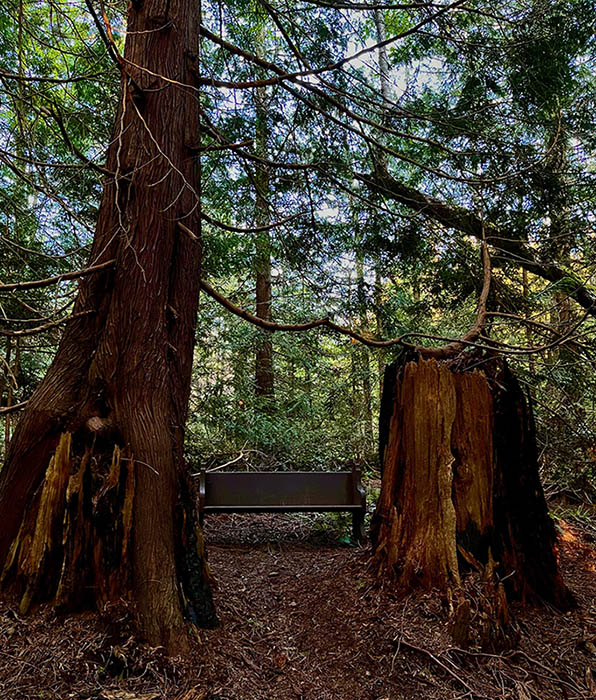 St Christopher, Saturna Island is a small faith community that offers regular Sunday services. For those who love the forest and the idea of a dedicated outdoor space for walking and meditation, St Christopher's has added a Forest Prayer Walk through the woods that is part of the church property.
During Holy Week, there is a posted Stations of the Cross that is followed by an offering of Words of Resurrection and Life during the Easter Season and through to Ascension. For some who walk here, this is their place to see and connect with stories of faith that may otherwise be unfamiliar.
With the story of Pentecost, the forest offers practices of the church throughout its life, both ancient and new. Our most recent addition to the Forest Prayer Walk for meditation and prayer is the ancient practice of breath prayers common to the desert mothers and fathers. The Breath Prayers of St Christopher's for any who would like to introduce this contemplative practice into their own gathered community, labyrinth or other walks, are here included with a brief introduction to this method of prayer and meditation.
St Christopher's Breath Prayers
This ancient form of prayer aligns our thoughts and our spirit with the breathing and walking rhythms in our body. The first phrase is repeated as you breathe in, and the second line repeats with every breath out.
"Breath of Heaven, fill my life with your life."
"The Spirit of God has made me; the Breath of the Almighty gives me life." (Job 33)
"Breath of Heaven, sing your song in my spirit."
"The Lord will take delight in you, in love will give you new life, and with joy will sing over you." (Zephaniah 3)
"Breath of Heaven, fill this house with your heaven."
"Suddenly, a sound like the blowing of a strong wind came from heaven and filled the whole house where they were sitting" (Acts 2)