Pandemic-delayed retreat finally goes ahead
By Marks McAvity
As you will see from the picture above, four red cars full of the Holy Spirit drove 14 parishioners of St Andrew, Sidney into a desert experience at Rivendell Retreat Centre. The centre is at the top of Cates Hill on Bowen Island, near Horseshoe Bay. 
Our retreat took place from March 7–10, 2022. This was our third attempt to hold this retreat, which was twice cancelled due to the COVID-19 pandemic.  
It was a deep experience, with times of study, silence, worship, communion around meals, island exploration and music; and a special recognition of our Ukrainian sisters and brothers with the making of pysanky Easter eggs. 
We used Joan Chittister's book Illuminated Life for our study. This book references the desert abbas and ammas of the Christian era's third century. Chittister's delightful book distills the wisdom of these early monastics into 26 values, and we participants — 16 in all — had a chance to explore the nuggets of wisdom she passed on. We took time for silence to pray on these values and to journal about our own interface with them, and then we each shared some aspects of what that value meant to us.  
Our explorations included the island's finest spots, including a lake, a 1,000-year-old tree and a boardwalk along the northwest coast. These nature trips provided a break from the deeply focused morning and evening sessions. 
As it turned out, we were a musical crowd. Those in our group who lead us often in music at church helped us master the Holden Evensong, which was our evening worship, and from which we went into silence until the next morning.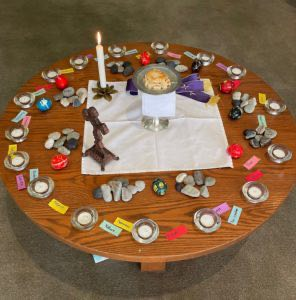 Our rector led us in a final eucharist and a table, decorated with symbols that reflected our time together, was set for communion. The eucharist was the perfect ending to close our three-day retreat. 
Everyone found the retreat a rich experience, both in terms of their faith and as a getaway they had not really had for the last two years. Thanks be to God! After three years of trying, we finally made it. 
Bringing food and friendship to the streets of Sidney
By Catherine Whiteley
Each week, on a Wednesday or Thursday, a small group of volunteers from St Andrew, Sidney can be found in the church kitchen, mixing up a batch of muffins, assembling sandwiches or making a delicious and hearty homemade soup. 
Every Monday and Friday, two St Andrew volunteers establish a safe place in a park corner, storefront walkway or nook hidden from passersby to dispense warm sandwiches, hot soup and coffee to newfound "friends" — for friends they now are, sharing stories and concerns for their acquaintances, as friends will do.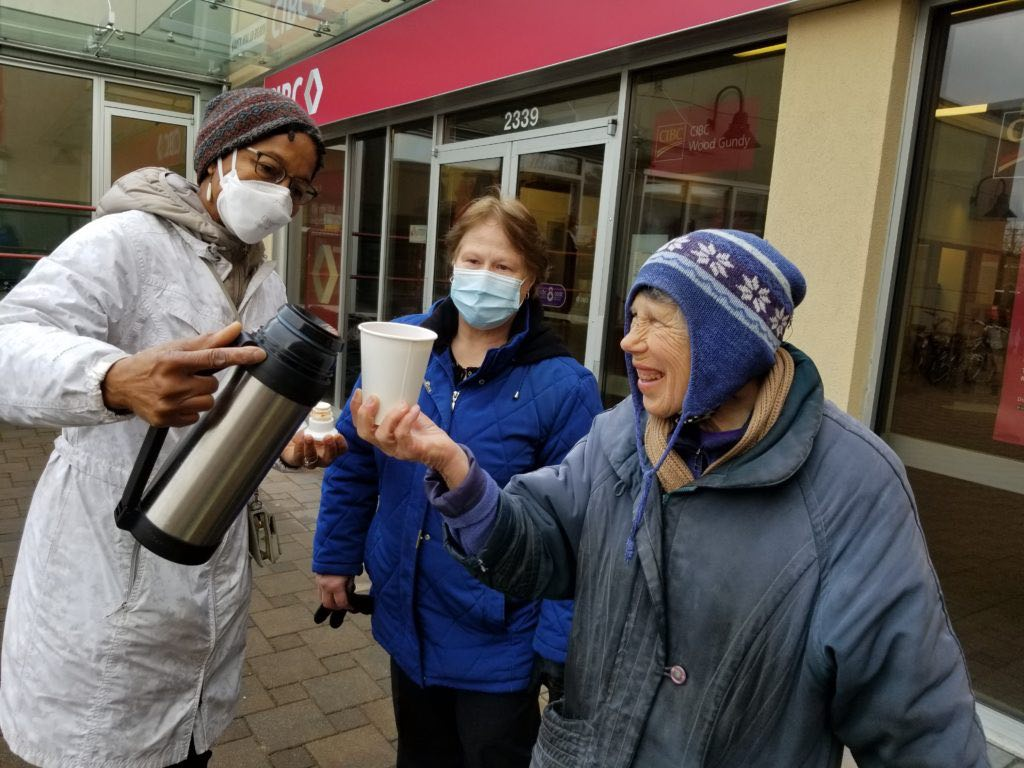 They come hesitantly at first, not trusting that seeming goodness can really be relied on, but with increasing confidence as weeks and months pass and generosity and friendship, as well as the hot coffee and soup, continue to prove reliable. They come for the unquestioning friendship and genuine care they receive as much as they come for the food. 
How did this mission to feed and befriend those living in the streets and byways of Sidney come to pass? 
It began as a holy whisper from the spirit of God to Lois Ainey, parish administrator at St Andrew. The notion seemed too immense for her, and at first, she disregarded it. It whispered again, undeniably, so Lois and her daughter began to look for the homeless and uncared for in our city with five McDonald's breakfast sandwiches and five coffees in their packs. Slowly, the volunteers found their daytime locations and a mission had begun.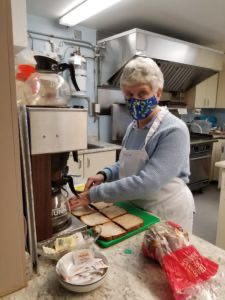 After a few months of determining how to structure this outreach, Lois approached incumbent Eric Patridge and the church council with a business plan, requesting their blessings and start-up funding. These were given freely and more help was recruited. There is now a roster of a dozen or so people who help in a variety of ways.  
Just as important, there is a large group of people who have offered monetary donations to fund the work and another stalwart group of parishioners who help in best way they can — through faithful prayers for this work, for the friends we help, and for the workers on the ground cooking and dispensing food and friendship. 
Through the sharing of simple food and caring interest, relationships are built and joy is created in the hearts of both the givers and the recipients. God's joy. 
God is blessing this venture, and we encourage everyone to participate in the role the spirit whispers to them.