March is the month when the diocese asks that all parishes complete their annual Parish Information Return (PIR). The data collected in this form helps us know who is serving as wardens and treasurers, and who is coming to the May synod as delegates. It also paints a picture of trends in attendance and other such demographics. A noticeable statistic in the past year — and a worrying one — is that quite a number of parishes have reported that they've held more funerals than baptisms.  
The Capital Daily recently published an article pointing out that the Greater Victoria region has the lowest birthrate in the country and the biggest gap between births and deaths of any municipality in Canada. Between July 1, 2021 and June 30, 2022, 4,222 people died in the Greater Victoria region while only 2,888 were born. The article also mentions that because of migration, the population of the region is in fact growing, but that most of this settlement is by those in the 65+ category. There are 30,000 more seniors in the Victoria area than there were 10 years ago. At the same time, the population in the 45–54 age group has declined by eight per cent. 
I am sure that I'm not telling you anything you have not already noticed. But I ask you to keep this in mind when you find yourself in church asking, "Where are all the young people?" or "What should we do to get more people in the Sunday school?" While we do still need to keep the needs of the young people, families and children in our midst in mind, I must say that as bishop, it frustrates me that we also, at the same time, don't celebrate and treasure all the seniors among us. 
Advertisement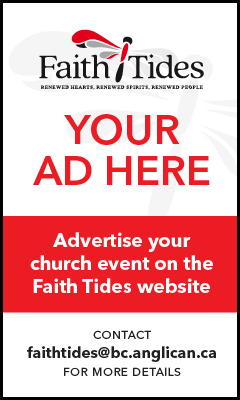 The Bible is full of exhortations to welcome the widows, the poor, the blind and the lame. Yet too often we assume that the mark of success for a church is how many young families it can attract. They are indeed valuable members of the community, but they are not more so than seniors, singles, the bereaved and those who have retired to this part of the world and are looking for community, connections and faith.  
This March, we continue our Lenten journey, and as we submit our Parish Annual Returns, let us look at the people in our communities and in our pews, and let us give thanks for who is with us — the neighbours that God has given us.