A friend told me that his son, who works with the United Nations in the Middle East, is frequently asked, "Where do you pray," meaning "where do you worship?" In both cases, it is natural to think immediately of a place, a building or a community, and to name it. Yet recently, I found myself realizing that in reality, I pray every day and anywhere. Am I being obsessive? Consider the following and think of your own days.
Yesterday, among my emails there was one from our son who is in Chicago on business. As I type a quick reply, I find myself holding him up to God. Wouldn't you say that is prayer?
A few days ago, the mailman brought a copy of Hugh McCullum's fine biography of Ted Scott, one time primate of the church and a dear friend. Another friend is returning it — guiltily — after a very long time! For me, to unwrap it, to turn its pages and to look at a remembered face on the cover, is to give thanks for a wonderful ministry. That's prayer. Tomorrow morning as I write this, I have a medical appointment with an ear specialist about the possibility of preserving the very limited hearing I have. To do so is to pray.
Advertisement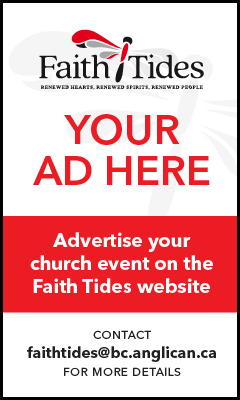 Tomorrow, I drive a grandchild to a summer activity. My hope is that she will enjoy it, develop her skills and meet friends. Such is my prayer. Even the writing of these few lines brings the hope that these simple musings will bring encouragement and comfort to those who read them.
As time goes on I realize more and more that all of life is prayer, whether we use that particular word or not. Of course there are times when I gather with others to pray, but spreading out from these occasions and places and times — like endless circles from a stone thrown into a lake —there are moments and opportunities to offer every conceivable aspect of life as prayer. For me, what binds all these aspects of life together is the conviction that every conceivable part of life is what Eastern spirituality calls entheos — in God.
I find this understanding of prayer encouraging because, truth to tell, I cannot make the claim to be a person of prayer in the sense of the disciplined saying of prayers at stated times. In this sense, I am very bad at prayer, but I have also become aware that a very rich prayer life can come from realizing that all moments, all places, are within the presence of the unimaginable reality we gropingly call God.
Between you and me, I suspect that this pattern shows where most of us are in this elusive and mysterious realm called prayer.