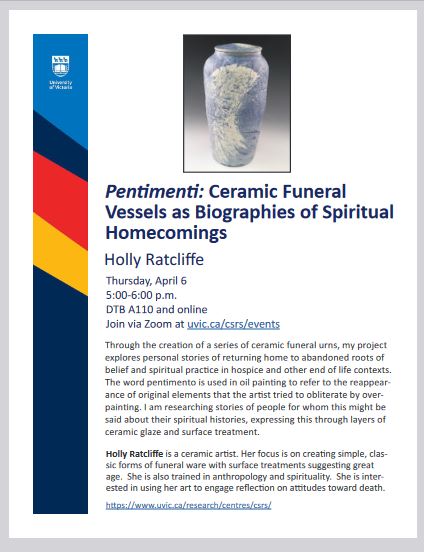 We had the pleasure of speaking with Holly Ratcliffe in our February 2023 issue. She will be lecturing at the Centre for Studies in Religion and Society (CSRS) at the University of Victoria as the 2022–2023 artist-in-residence. She invites all to attend: https://www.uvic.ca/research/centres/csrs/assets/docs/s2023-12-holly-ratcliffe_april6.pdf 
Holly will be speaking about the research and ceramic work she has been doing on Ceramic funerary vessels as biographies of spiritual homecomings. 
The lecture is in-person on April 6, 2023, at 5 p.m. at the David Turpin Building, Room A110. 
For any who can't attend in-person, the hour-long event is also available as a Zoom meeting which can be accessed on the CSRS website at https://www.uvic.ca/research/centres/csrs/events/index.php 
The recording will be made permanently available online at 
https://soundcloud.com/universityofvictoria/sets/centre-for-studies-in-religion 
Hope to see you there!